The First in human trial is part of the drug development process. First in human clinical trials can either be Phase 0 or Phase 1. By conducting Phase 0 first in human studies (FIH studies), in vivo data can be obtained before your Phase 1 clinical trial. Phase 0 is becoming more and more the standard for FIH drug development. But what are FIH first in human trials exactly and are all FIH trials the same? As a clinical research organization specializing in first in human trials, we provide more information on this page.
You can also book your free consult with TRACER.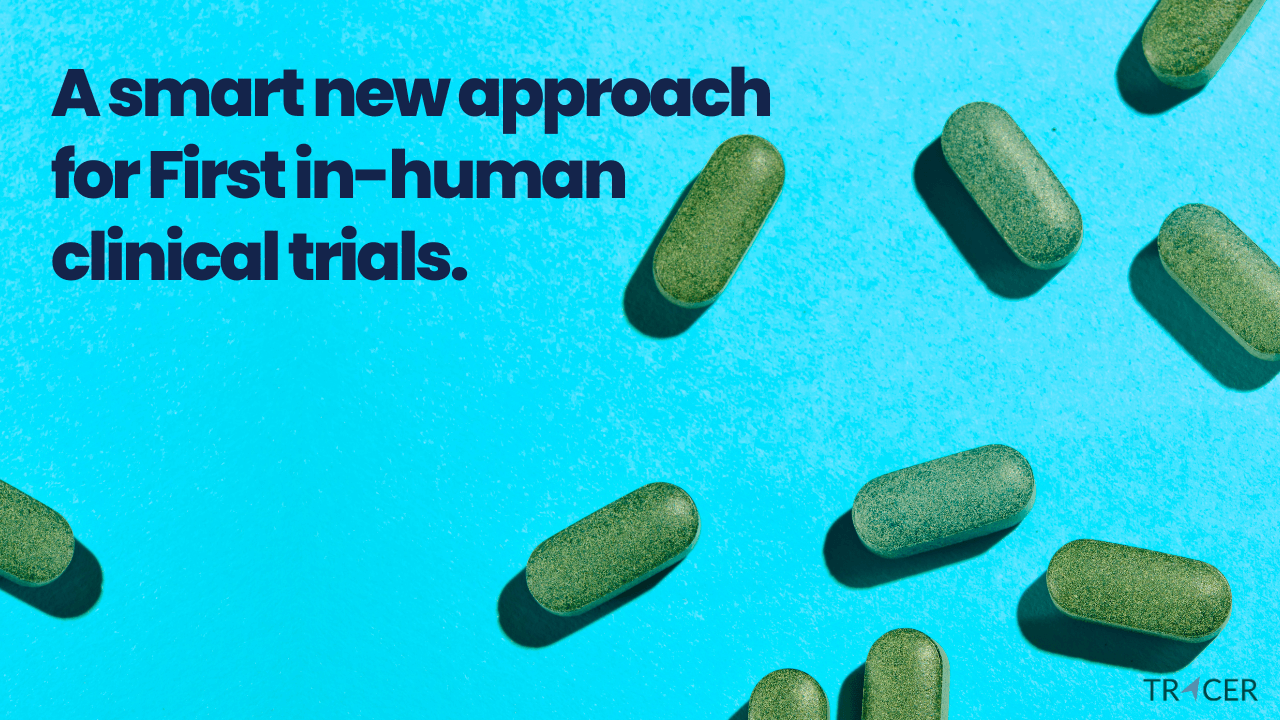 First in human trials explained
A first-in-human clinical trial is the first clinical study of an investigational new drug or medical device. So, first in human meaning the first clinical trial conducted in humans. When this trial is conducted before the stages of clinical trials 1, 2, 3, and 4, it's referred to as a Phase 0 study. If Phase 1 is the first trial, this will then be the FIH study. Basically, it is whichever study comes first. However, there are several features that distinguish Phase 0 first in human study from other FIH studies.
We are happy to answer your questions or to discuss a first in human strategy for your drug development.
First in human trial and imaging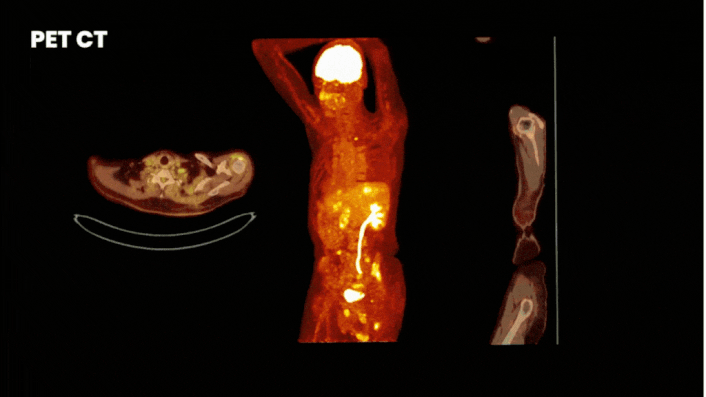 There are multiple methods to obtain clinical data from a Phase 0 study. One of the most informative methods is by using molecular imaging techniques. For this you label your compound either with a fluorescent or nuclear tracer. Where fluorescent labeling shows binding at cellular level, but has a limited penetration depth, nuclear labeling allows whole-body visualization of biodistribution.
Especially for a first in human trial it is wise to implement imaging. By labeling your compound with a label (a tracer) you can see how your drug behaves in the body at every level. On target uptake proves your drug reaches target and off-target uptake guides you where to look for adverse effects.
Key features of Phase 0 first-in-human trial with imaging
A Phase 0 trial is always conducted on a small group of participants. In general, n= 5 to 10.
As a dosing study has not yet been conducted, during Phase 0 first in human trials, only a microdose is used. This is a maximum of <100 ug (<30 nmol protein) or 100x lower than the therapeutic dose (whichever is the lowest).
In general, Phase 0 first in human studies include patients instead of healthy volunteers.
Phase 0 FIH drug development can replace large animal model studies and make extensive rodent testing redundant.
A Phase 0 trial with imaging provides visual data on target binding. Depending what method of imaging you use, it is also possible to obtain biodistribution data at multiple timeframes.
The result of a first in human trial is a proof of concept. The on- and off-target data proves whether the drug or medical device can be successful in later clinical trials.
The design of first in human studies
The design of first in human studies is tailor-made, but every phase 0 clinical trial exists of the following necessary steps.
Check if your compound or product is suitable for first in human studies

Before you design your imaging first in human study you need to know if such a trial is possible for your compound or medical device. Contact TRACER for a quick check or schedule a meeting directly. The sooner you identify it fits your compound, the better because adding FIH to a drug development process can save time and costs. At TRACER you can use GLP material to go to the clinic and in most cases you only need a single dose extended toxicity study.

Did you know: first in human trials can make large animal models (nonrodent mammalian animal species) redundant. FIH also saves time and resources by minimizing the use of laboratory animals.
How a first in human study design is made

Different guidelines apply to a first in human study, containing a medical device or drug compound. The design of your first in human study depends on what the objective of the study is. In general:

A Phase 1 clinical trial is conducted on healthy volunteers. The aim is to establish safety and pharmacokinetics.
For Phase 0, which is conducted on patients, the study goal is to get data on on-target and off-target accumulation. This in vivo data can best be gathered by using nuclear or fluorescence imaging techniques.
Meeting regulations and guidelines

Does your trial take place in Europe? Then it needs to adhere to the EMA first in human guidance. In the United States, you need to check the first in human trials FDA regulations. You can read the regulatory guidelines on the website of the EMA and the first in human clinical trials guidelines FDA here. Please note that the FDA and EMA first-in-human guidance applies to multiple phases of first in human trials and not only to Phase 0. When comparing first-in-human trials vs Phase 1 clinical studies you will see a difference in design.

eIND application

An investigational new drug, IND for short is any compound that is still under investigation and not yet available for therapy. In Europe the term IMP is more common, meaning Investigational Medicinal Product. There is also e-IND, meaning exploratory investigational new drug. For Phase 0 it is not needed that your IND is filed, submitted, and approved by the FDA. E-IND can be sufficient. Please note, EIND is different from e-IND, this means an Emergency Investigational New Drug. The COVID vaccine was an example of that.

Good to know: in Europe it is easier to start your study. The FDA requests more safety data than the EMA. You can use your data obtained from an EU clinical trial for later FDA IND application.
Execution of first in human trial

TRACER is an imaging CRO that assists drug developers in choosing the right imaging technique and right label to use for tracing the compound in vivo. We are however a full service CRO, so we can conduct clinical trials from A-Z. From drug labeling to designing and conducting the clinical FIH trial.

TRACER first-in-human trial Services
As a full-service contract research organization, TRACER specializes in bringing preclinical programs first to human by using molecular imaging and microdosing techniques. our services include everything from preclinical to late clinical studies.
Our preclinical services
Development of radiolabeled antibodies, peptides, and small molecules
Development of fluorescent antibodies, peptides, and small molecules
Quality control and purification of labeled antibodies, peptides, and small molecules
In vitro cell binding and internalization assay (Lindmo assay, IC50 assay, Scatchard assay)
In vitro autoradiography
Fluorescence microscopy
Immunohistochemical staining
Immunofluorescence staining
Preparation and ethical approval of protocol for animal experiments
In vivo biodistribution in rodents
In vivo PET and SPECT imaging in rodents
In vivo fluorescence imaging in rodents
Ex vivo autoradiography of radiolabeled compounds in excised organs
Ex vivo fluorescence imaging of fluorescent compounds in excised organs
Our translational services
GLP and GMP synthesis of precursors for labeling
Design of fluorescent and radiolabeled compounds (and precursors)
Radiolabeling of compounds for clinical use (GMP)
Fluorescent labeling of compounds for clinical use
(GMP) Development, validation, and qualification of quality control assays
Preclinical toxicity studies
IMPD writing
Manufacturing and release of labeled study drugs
Our clinical services
Clinical trial design for Phase 0, Phase I and Phase II clinical trials
Statistical Expertise for Phase 0, Phase I and Phase II clinical trials
Preparation of clinical trial documentation for submission to authorities
Interaction with regulatory authorities to receive clinical trial approval
Preparation of Standard Operating Procedures (SOPs) for clinical trial conduct
Preparation of study related documents
eCRF development
Preparation of Trial Master File
Clinical study monitoring
Patient recruitment & screening
(Total body) PET/CT acquisition
SPECT/CT acquisition
Image analysis and dosimetry
In vivo and ex vivo fluorescence imaging
(Serious) Adverse event reporting
Data & image analysis, statistics, and reporting (Clinical Study Report)
The outcome of first in human studies /PoC study
Both Phase 1 and 0 are first in human trials, it just depends on what trial objective you choose. We recommend Phase 0 proof of concept research before Phase 1. PoC, short for Proof-Of-Concept, will give you visualized pharmacokinetic and biodistribution data that allow for an early go/no-go decision. Conducting a proof of concept study is in general much cheaper since you will need less participants. A proof of concept clinical trial can be conducted in as fast as 12-18 months.
First in human clinical trials examples
To get an understanding of imaging in first in human studies, you take a look at some examples below.
mRNA vaccine first human trials

TRACER provided its unique expertise in nuclear and fluorescent imaging for one of the first mRNA human trials for COVID vaccines. For these mRNA vaccine first human trials the goal was to identify the promising candidates as fast as possible. The same method used for rapidly developing the COVID vaccines is still available for drug developers to identify the most promising lead in their pipeline. Use this to your advantage and choose Phase 0 as your first-in-human trial.
Example of first-in-human oncology trials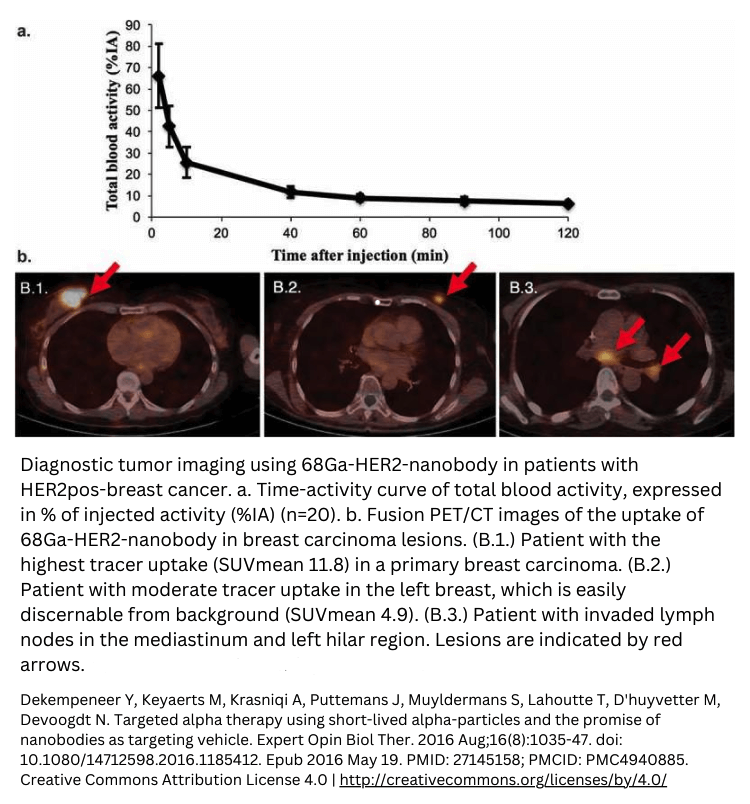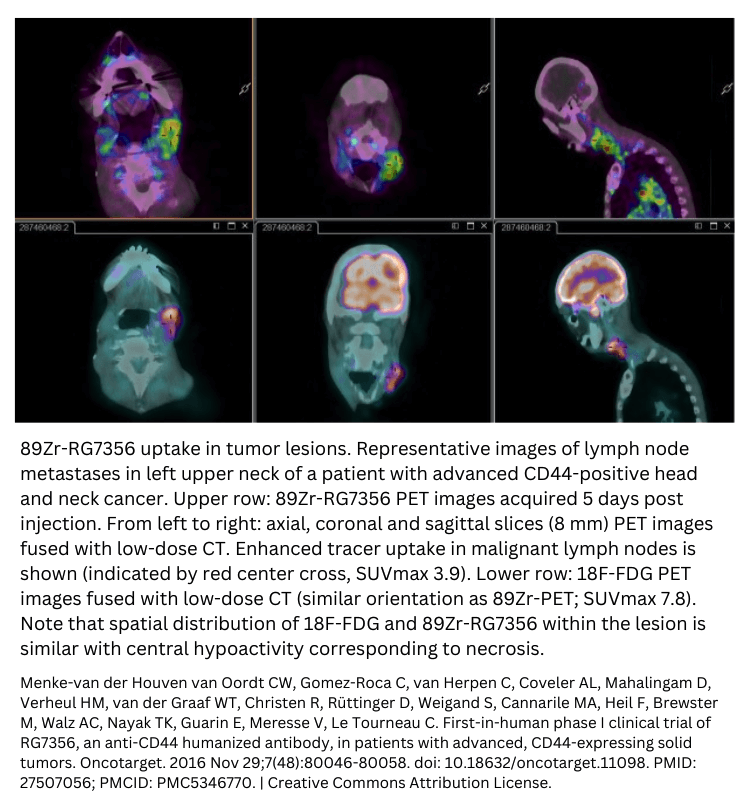 FAQ
Moving a drug from the preclinical development phase to first in human clinical trials can be exciting. It is normal that both drug developers and trial participants have questions about the trials and the safety of both the drug and trial. Below you will find answers on the frequently asked questions about first-in-human FIH studies. Is your question not listed? Or do you want to know more about a specific topic? Contact TRACER by sending an e-mail to info@tracercro.com.
What is sentinel dosing first in humans?

Sentinel dosing means administering the drug to one patient before administering it to all participants. By doing so adverse effects can be measured. When no adverse effects occur, the complete trial can take place. This strategy can be used when Phase 1 is the first in human trial. Depending on the effect, the MRSD (Maximum Safe Starting Dose) can be adjusted. It is important that there is clear guidance in the study design on what to do when adverse effects occur after sentinel dosing.

What is first in human dosing?

First in human dosing refers to the first dosing administered to humans to study in vivo behavior of the novel compound. If Phase 1 is the first clinical trial on humans, dosing determination is the main objective of the trial. When Phase 0 is the first in human clinical trial, the dosing will be much lower and without therapeutic effect. Namely, the study goal is to determine whether the compound is incorporated into the target tissue and where off target side effects might occur.

What is first in man study?

First in man study is another term for first-in-human study. First in human or the abbreviation FIH is more commonly used.

What is a first in human drug?

The compound used in a first in human trial can be referred to as a first in human drug. Since this is always an investigational drug it can only be used in clinical trials and not yet in regular therapies. After Phase 0 or Phase 1, whichever is conducted first, the first in human drug is generally referred to as an investigational new drug, or IND for short.

Which animal studies are required for first in man clinical trials?

Traditionally, before any first in man clinical trials can be conducted, there is an extensive preclinical study trajectory. This includes in vitro, ex vivo and in vivo animal studies. Phase 0 imaging studies reduce the requirements for extensive animal testing. Often a single-dose extended toxicity study is sufficient instead of extensive animal testing. This is one of the reasons that it speeds up your drug development process and saves costs.

It is a trend to move faster into human

It is inline with the trend that more regulatory bodies and countries are changing the rules to move away from animal testing and move into human faster. There will always be differences between in-human data and data obtained from animals testing, so animal data is less reliable.

Which animal studies are required for Phase 0 first in man clinical trials?

For unknown compounds or an unknown combination of compounds a single dose toxicity study is needed. This extended single dose toxicity study is the minimal requirement to perform Phase 0 clinical trials in humans. In general, after successfully completing a Phase 0 study, a compound can move to Phase 1 faster and with a higher certainty of success.