Phase 0 is becoming the standard in drug development. A Phase 0 clinical trial takes place before the standard early phase clinical trials, Phase I and II. A Phase 0 trial is also known as a Proof of Concept study or PoC study for short. Since 2006, Phase 0 is an approved method by the EMA and FDA. Every year, more pharmaceutical and biotechnology companies use this method. This allows them to speed up the development of their (pre)clinical pipeline.
Learn more about Phase 0 and why you should implement it as well. Plan a knowledge session with TRACER.
Schedule a meeting
or send an e-mail to info@tracercro.com
In short: What is Phase Zero?
As a contract research organization specializing in Phase 0 imaging studies, we often get the question "What is Phase Zero?" In short, a Phase 0 study uses a subtherapeutic dose ("microdose") of a drug to gather in-human data in your drug's target population.
There are multiple methods you can use to conduct a Phase 0 study. The most common ones are measuring plasma concentration and molecular imaging. At TRACER we specialize in the latter as it is the only method that provides accurate data to study target engagement, pharmacokinetics, and biodistribution.
In this article, we will tell you everything you need to know about Phase 0 imaging studies and their benefits for your preclinical pipeline.
A Phase 0 clinical trial studies the behavior of your drug in humans
Phase 0 studies means conducting exploratory studies on a small group of individuals to determine how a drug behaves in the human body before advancing to larger clinical trials. Phase 0 is the First In-Human (FIH) clinical trial. Because this is a first in human clinical trial, there are strict regulations on dosing.
Fluorescence or radiolabeled microdose
During a Phase 0 study, you only use a microdose of your drug. This is 1/100th of the pharmacologically active dose or of the no observed adverse effect level (NOAEL) and at the very maximum 100 micrograms. In the case of a Phase 0 imaging study, a microdose of your compound is labeled with a radionuclide or a fluorescent dye. Often, a single-dose extended toxicity study of your labeled compound is sufficient to move into humans. Once administered to your target population, you can use molecular imaging to visualize if your drug reaches the target tissue. Through in vivo and ex vivo analysis you gather pharmacokinetics (PK) and biodistribution (BD) data. This allows you to make early go/no-go decisions about the development of your compound(s).
Make early go/no-go decisions with a Phase 0 study
Now that you have on- and off-target, pharmacokinetics and biodistribution data, you can make an informed decision about the next development step of your compound. Here it's all about answering two essential questions:
Is there a high uptake of your drug in the target tissue (on target)?
Is there low or no uptake of your drug in healthy tissue (off-target)?
Your Phase 0 study data either represents a positive or negative result.
Positive data from your PoC study
Positive data means your drug has high uptake in the target tissue, but low uptake in healthy tissue. Your study shows that the compound has a high potential to succeed in patients. In this case, you can move forward to the next clinical trial phases.
How a negative Phase 0 outcome can be positive
When your drug shows (almost) no binding to the target tissue and/or has high uptake in healthy tissue it is considered a negative result. However, a negative outcome is not unfavorable. Namely, it means that you can spend extra resources on R&D. You can use this to improve your lead candidate or shift focus to more promising compounds. It will avoid taking low efficacy compounds into the next and more expensive stages of drug development.
PoC study as an investment tool
After your lead discovery and preclinical testing activities, a Phase 0 study will identify the most promising compounds in your pipeline at an early stage. The PoC study is not only beneficial for developing your drug but also for attracting investors.
For a Phase 0 study far fewer resources are needed
In general, for a traditional preclinical trial and a Phase 1 trial you need an investment between €5-15M. For a Phase 0 clinical trial this amount is significantly lower, at around 400K – 1.2M. As the study budget is lower, it automatically lowers the investment risk.
De-risking mechanism: 90% of new drugs never reach market
Make go/no-go decisions before the costly Phase I-III trials start. For drug developers this will help them to avoid spending resources and time on non-efficient compounds. For Life Sciences investors a Phase 0 study can act as a de-risking mechanism. By including a PoC study in your development plan, you offer investors more security. They don't invest a large sum in non-efficient compounds, which is lowering their investment risk.
Attract funding for the next development steps
When you possess efficacy data, there is a 73% higher probability of success in later clinical trials. This justifies investors to fund your next development steps. Read more about funding drug development.
How long is Phase 0 in clinical trials?
On average a Phase 0 study takes 10-14 months from preparation to finish. The length of the study depends on the development status of your compound and the number of trial participants. Use the information below to check what stage you are in now and what steps you need to take.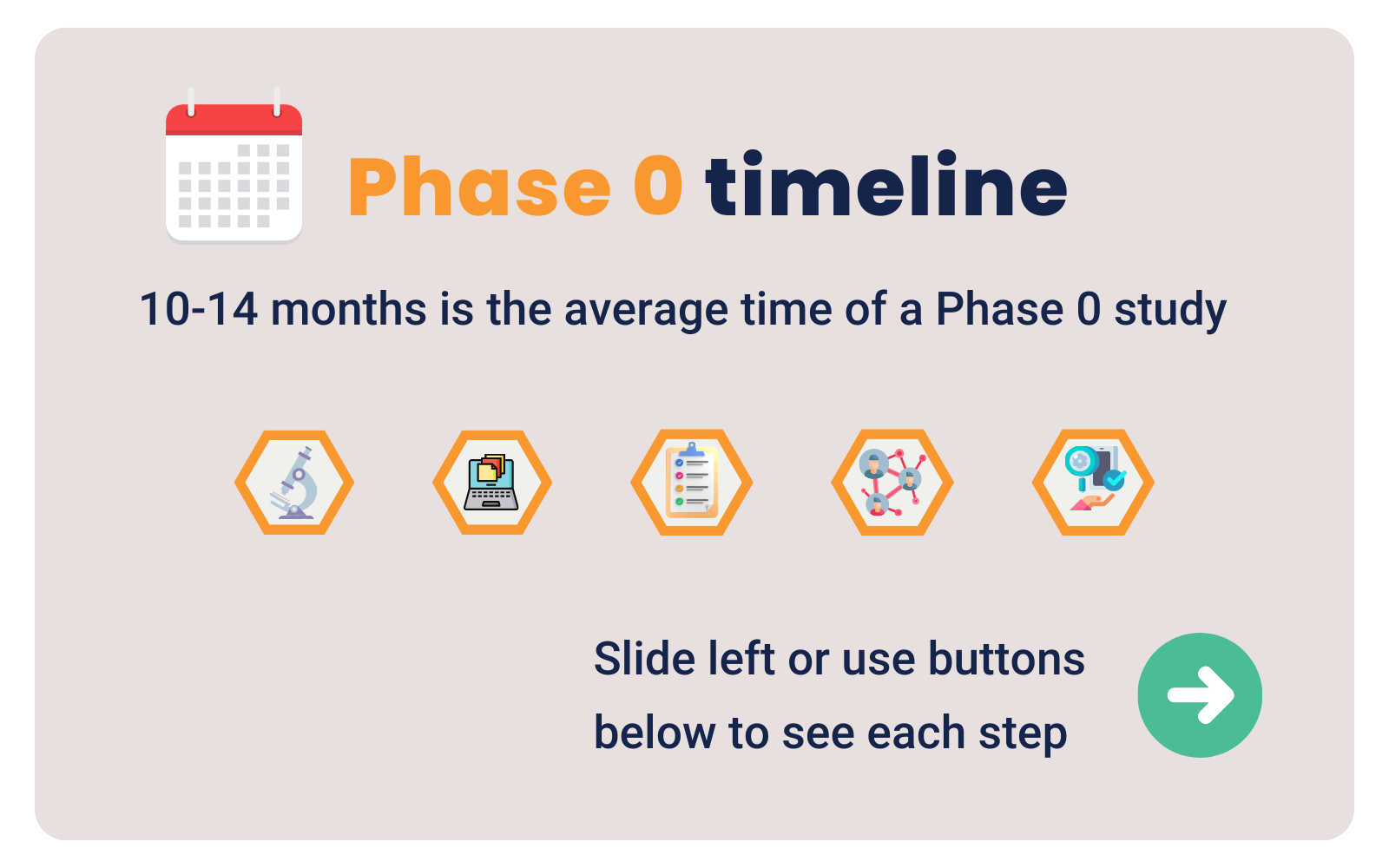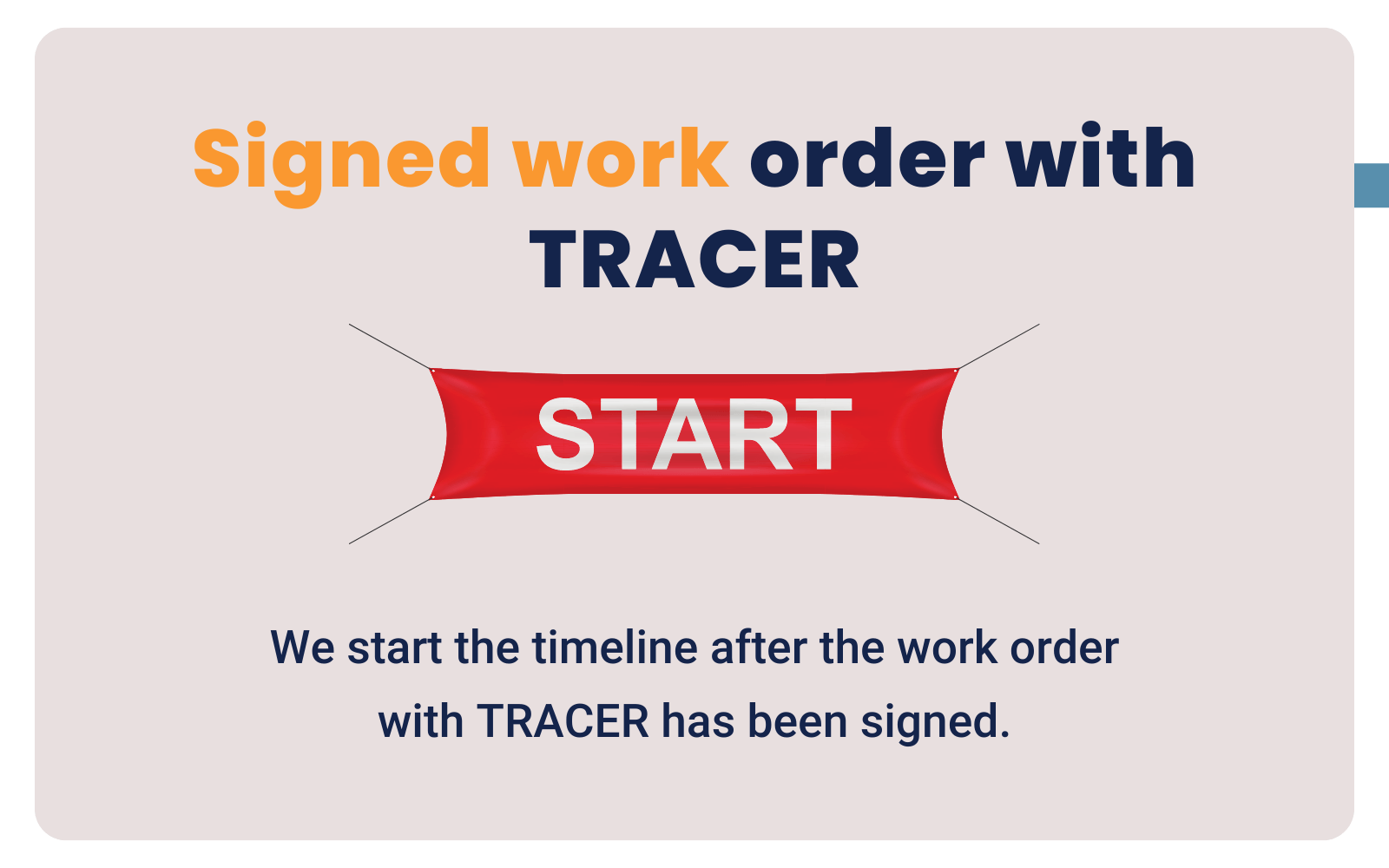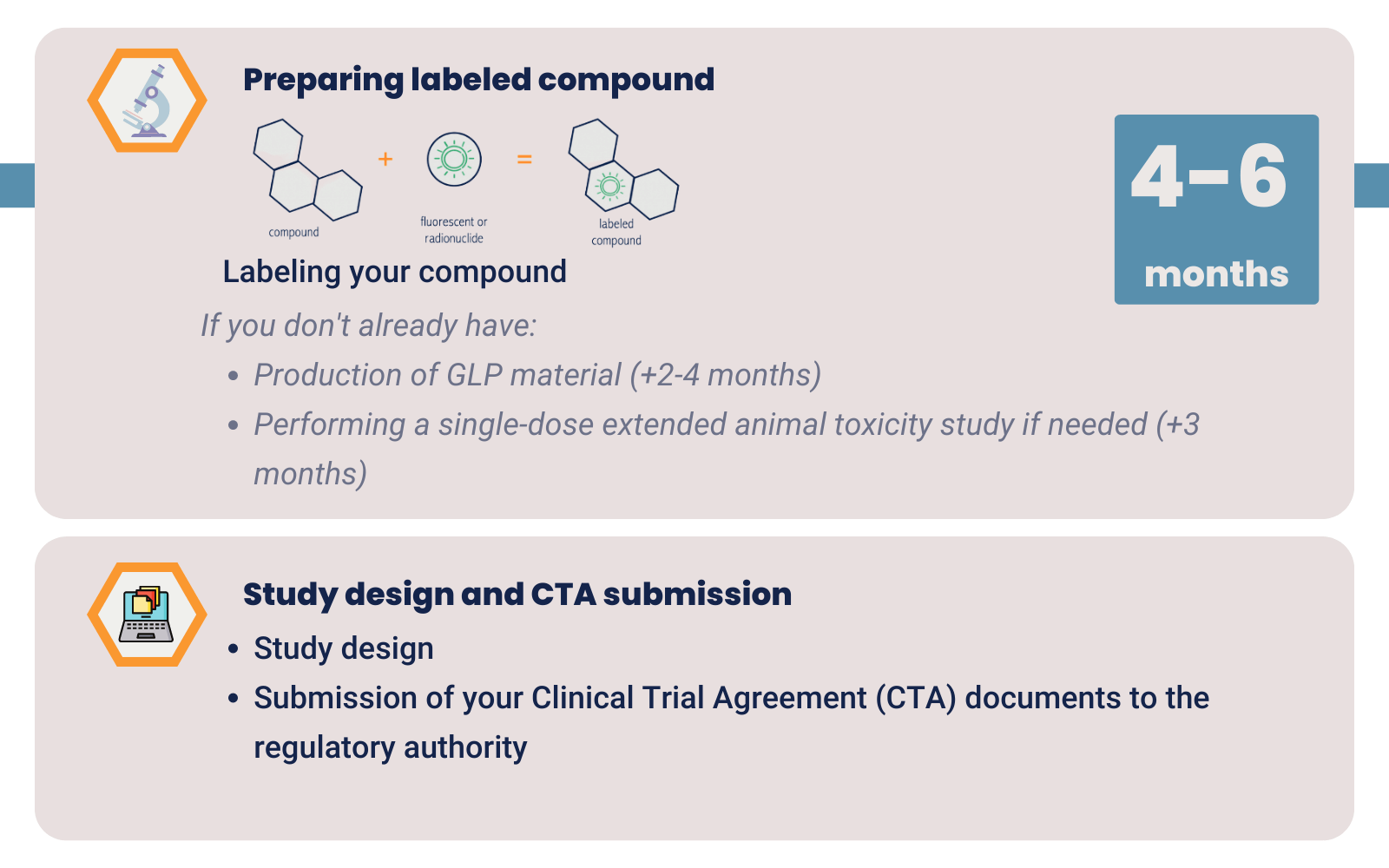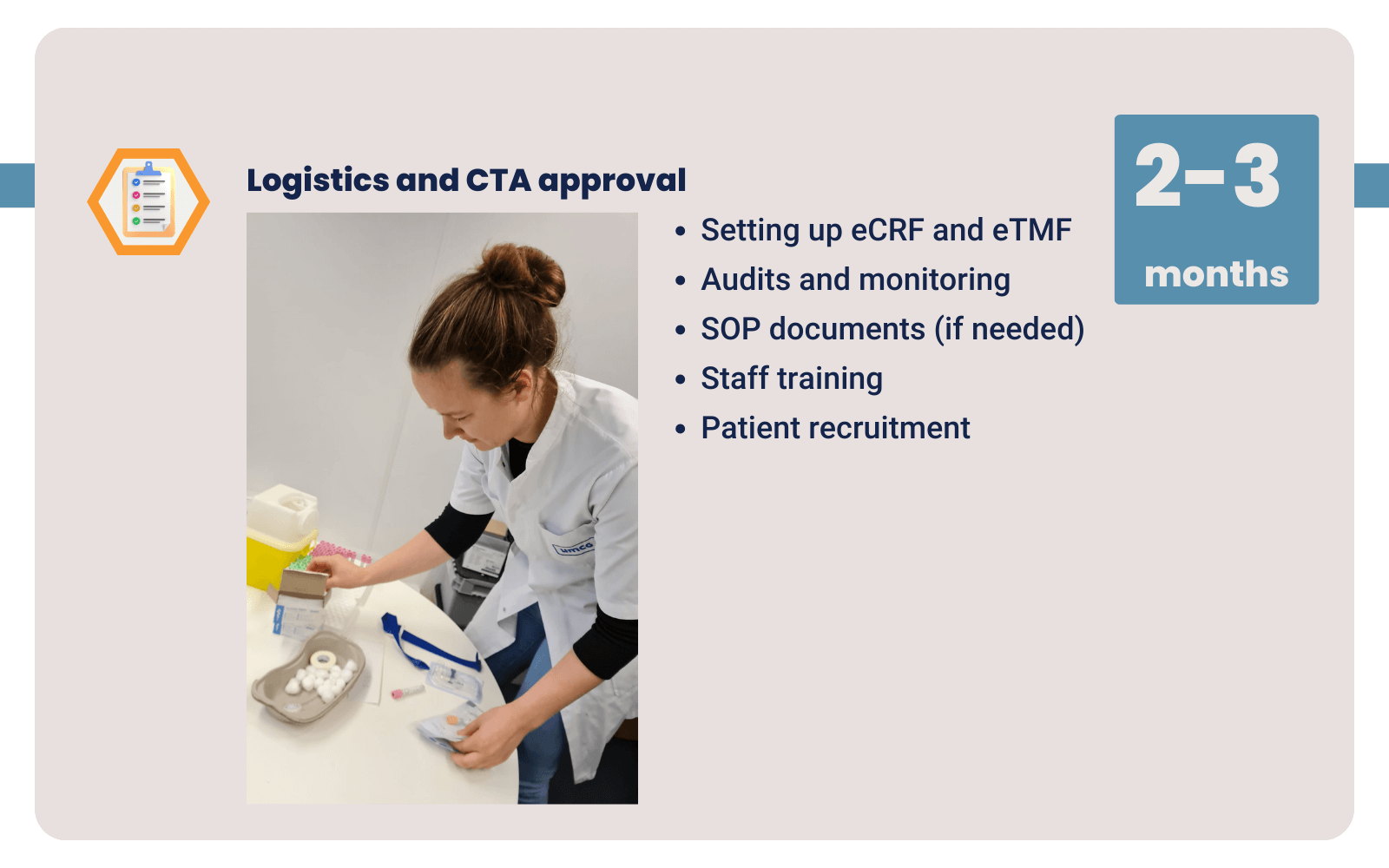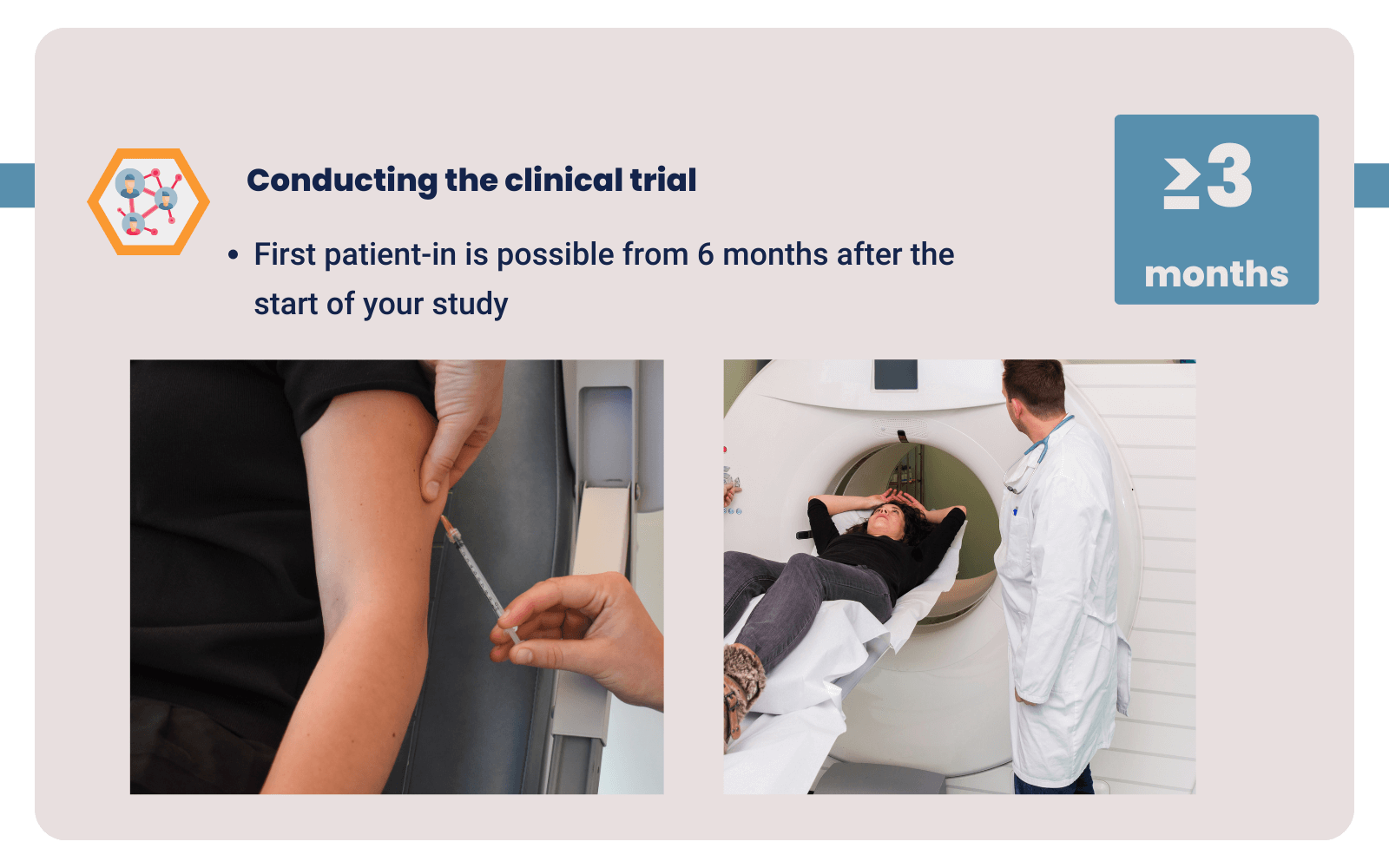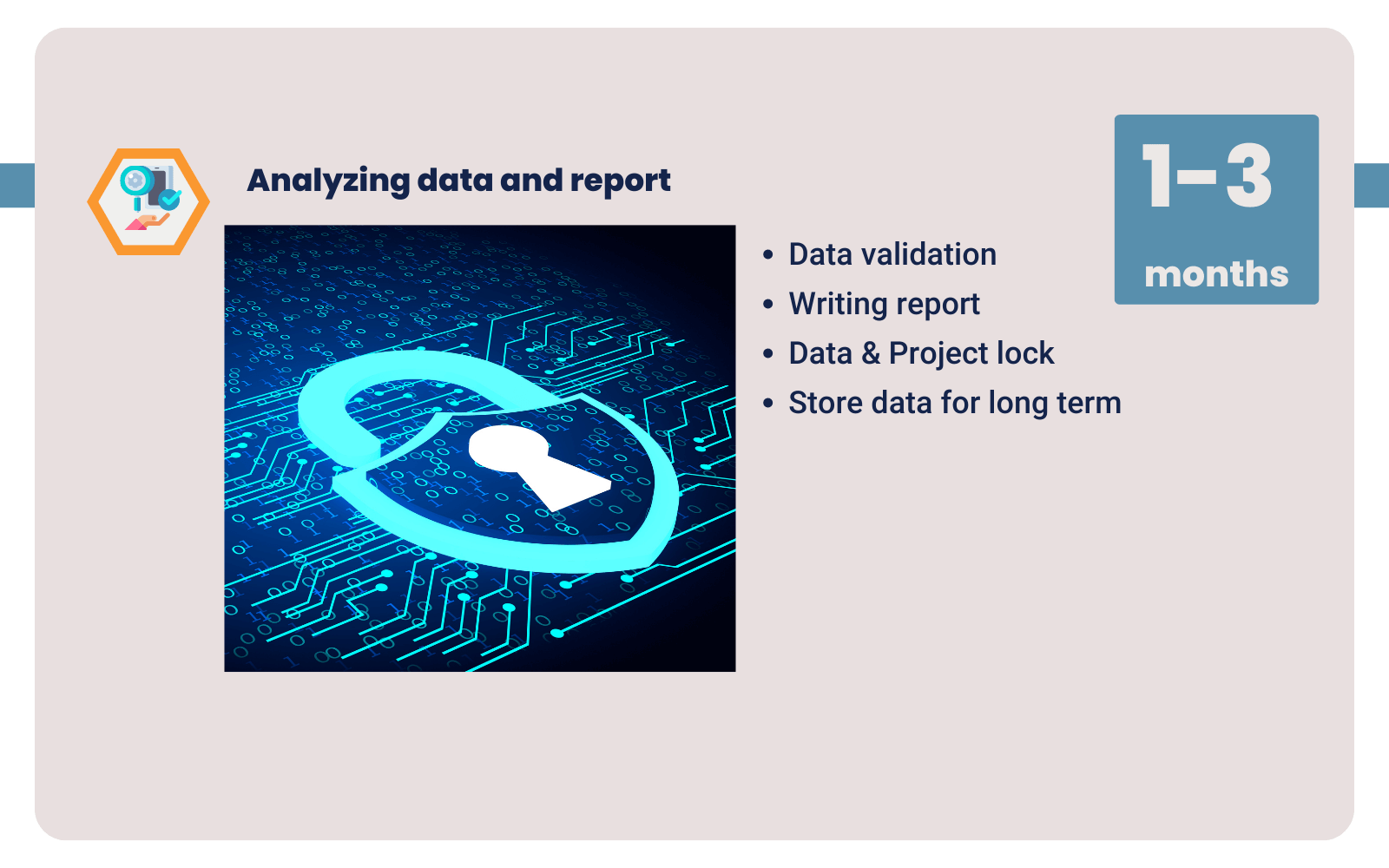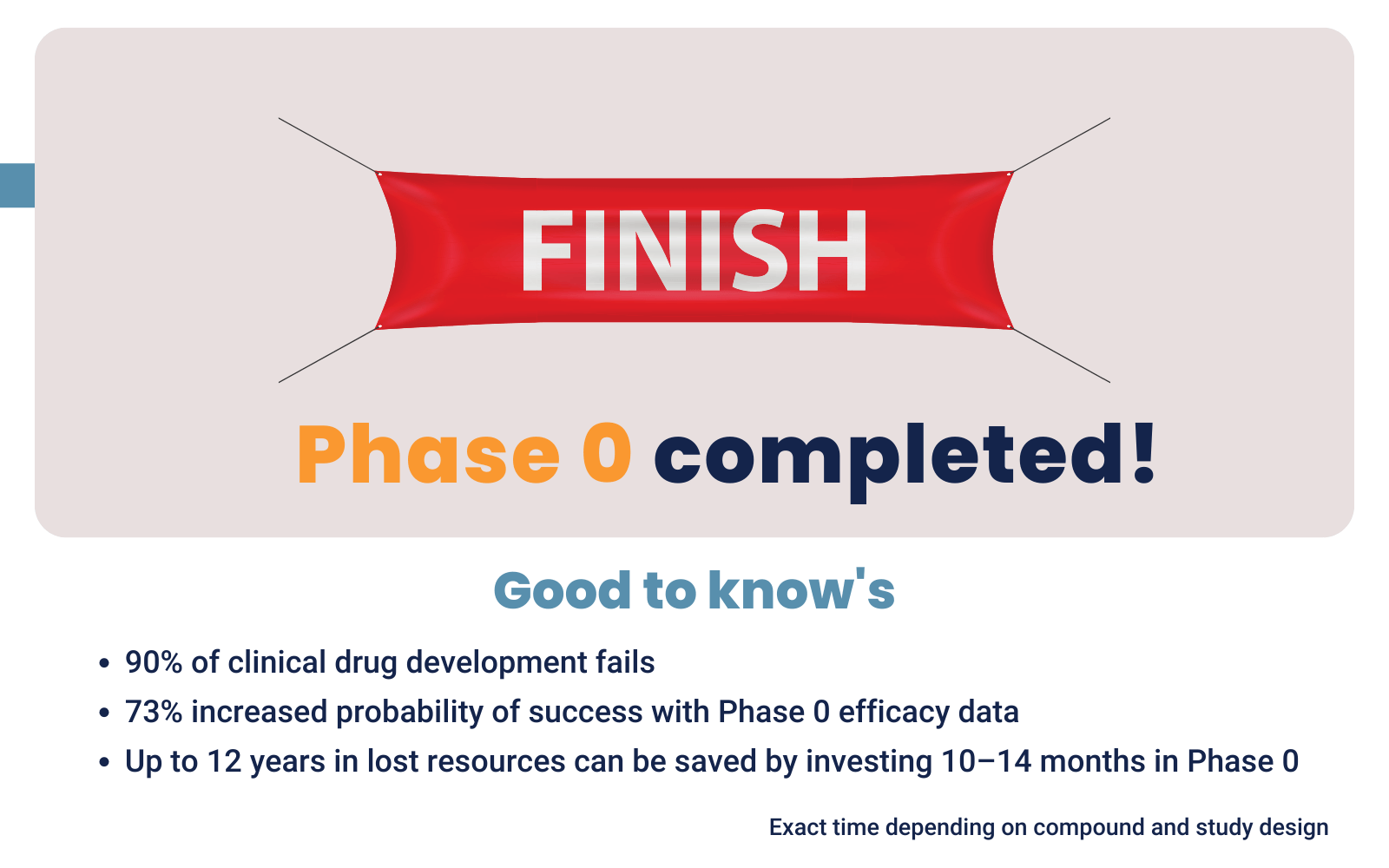 GLP – GMP material
GLP material is sufficient to start your clinical trial. Production of GLP material takes about 2-4 months. We label your GLP drug with a radionuclide or fluorescent dye under GMP conditions. This makes the drug fit to test in the clinic without you having to invest in high GMP costs.
Single-dose extended toxicity study
After you produced your compound, in many cases, a single-dose extended toxicity study is needed. This step takes approximately 3 months. You might be able to skip this step if you use materials for which toxicity data is already known. This would include toxicity data of your labeled compound.
Drug labeling
Once you have GLP or GMP material and conducted toxicity studies you can start with the optimization and validation of labeling your drug. Finding the right label for your compound and your target tissue takes approximately 4-6 months.
Tip: in case there are no toxicity levels known for your compound and label or combination of the two, we will do the tox study for you. There is no need to do a tox study on only the compound since we will do this again for you when the compound is coupled with the label.
Regulatory approval for clinical trial
During the previous steps, you can prepare the documents for your regulatory approval. The Institutional Review Board (IRB) in The Netherlands only takes a maximum of 12 weeks to approve a new Phase 0 imaging study. Read four more reasons to conduct your clinical trial in the Netherlands.
First patient-in from 6-10 months
You can have your regulatory approval and first patient-in from 6-10 months from the start of your study preparations.
The execution of a Phase 0 study with 10 participants can take another 3 months. The exact timeframe depends on your target population. If you would like an exact time estimate for your project, please contact us.
Contact us to get a time estimate or read more about how long Phase 0 in clinical trials may take.
TRACER Contract Research Organization
The success of your Phase 0 clinical trial depends on many factors, including the preparation of your trial. As a Contract Research Organization, we prepare, manage and analyze your Phase 0 study.
Choosing the label to visualize your drug has a major effect on the outcome. TRACER is an expert in this field. A fluorescence dye or radionuclide is coupled to your drug. Your new drug can be an antibody, antibody fragment, protein, or other compound. Selecting the right label depends on what is possible for your drug. Because it is an in-vivo study, the binding properties and PK/BD profile must not be affected by the label. These characteristics of your labeled drug will be compared to the unlabeled drug in the development phase to verify the quality of the labeled drug.
Faster regulatory approval in The Netherlands
There is a reason many biotech companies choose for clinical trials Europe and especially the Netherlands. The fast regulatory approval is one of the main reasons why also companies from within the EU choose for the clinical trial Netherlands. At TRACER, we can help you to obtain regulatory approval for an EMA clinical trial. If we conduct your Phase 0 imaging study, we will also work with the authorities, so the European clinical trial register accepts your study. If you have questions about regulations, processes, or the study itself, don't hesitate to contact us.
Good to know when choosing a CRO
A Phase 0 clinical trial will provide you with the data you need to make a go/no-go decision. Keep in mind that a Phase 0 study is always conducted in a small cohort with a single subtherapeutic dose. Our 20+ years of experience and expertise in this field go beyond that of any other CRO. That is why companies and other top clinical research organizations choose to work with us to execute their Phase 0 imaging studies.
Read our publications
In conclusion: Phase 0 the most crucial of the 4 phases of clinical trials
What is a Phase 0 clinical trial? It's by far the most crucial step for a drug development company. It helps to identify the most promising compound in your pharmaceutical pipeline. It places the resources where they belong, at the R&D in pharmaceutical industry. For you as a drug developer or investor, it decreases the chance of unexpected results and side effects during the clinical phases. Meaning a faster time to market and lower development costs.
Questions?
We understand that you might still have some questions about Phase 0 trials. We've developed a knowledge base with study material for a more in-depth analysis of how Phase 0 can help your drug development. Let us know what you are interested in to receive this information or book your one-on-one with an expert from TRACER.
FAQ for Phase 0 in early phase clinical trials
Phase 0 comes before early phase clinical research (Phase I-II). What is a Phase 0 clinical trial in comparison with the other phases? Let's dive deeper into the position of this phase in relation to the other one by answering some frequently asked questions.
Is Phase 0 preclinical?

A Phase 0 clinical trial takes place after your preclinical studies and before Phase I. In case of Phase 0 imaging studies, you only need limited toxicity data. Additionally, as you are generating in-human data, you can often skip large animal studies. Limited preclinical studies accelerate your study timelines and limit preclinical development costs.
What is the difference between Phase 1 and Phase 0?


Let's look at the Phase 0 clinical trial definition. First of all, you'll notice that the dose for Phase 0 studies is much lower. The purpose of Phase 0 clinical trial is to study PK/BD data by using a microdose of the studied drug.

In comparison, during a Phase 1 clinical trial you analyze the safety of your drug. This generally includes the maximum tolerated dose, timing of treatment, and side effects.

Another difference when comparing Phase 0 vs Phase 1 clinical trials is that only a small group of your target population is needed. Usually, 5-10 patients that express the target of interest are sufficient to gather in-human efficacy data and provide you with an indication of the success of your drug. The number of trial participants in Phase I studies is usually much higher.

With the information on targeting, pharmacokinetics, and dosing from Phase 0, you will be able to conduct your Phase I-III trials more efficiently with less errors.
Is there for a Phase 0 trial FDA approval?

Can you get FDA approval for your Phase 0 clinical trial? This trial is in line with the United States Food and Drug Administration (FDA) guidance. It's for new molecules that already have a toxicity study. You don't need an Investigational New Drug (IND) application but you'll need an exploratory IND study (eIND). This is an in-human trial but only with a sub-pharmacological dose. It's without any therapeutic effect or diagnostic value.

Need to knows about eIND

Before we continue to explain Phase 0 drug development, we discuss in short the exploratory Investigational New Drug (eIND) guidance established in 2006.

The need for the eIND comes from the FDA itself. This also shows that Phase 0 clinical trials are supported by the FDA. The FDA even encourages drug developers to conduct a Phase 0 imaging study with new investigational agents. It's their answer to the approximately 90% failing Phase I-III clinical trials and the lost recourses that come with that.